Fresh Alpine air, the sounds of birds and bees, fields of purple saffrons … nature at its best, pure, beautiful and untouched. These are my impressions from my visit to the mountain called Velika Planina (Big Mountain) in Slovenia.
Sometimes amazing places are 'just around the corner' but we don't know it. And when we discover them, our experience is even greater.
Where is it & how to get there?
Velika Planina is the largest shepherds' settlement in Europe, in central Slovenia at the elevation of 1.611 metres. It takes only 2 hours of driving from Zagreb, the capital of Croatia and approximately half an hour from Ljubljana, the capital of Slovenia, to get to Kamniška Bistrica. From there, the fastest way to get to the mountain is by a cable car and a ski lift. The road is well marked so there's no worry you'll get lost. When you arrive to the cable car spot you can park your car at the free parking lot. Just check the working hours of the cable car before you plan your visit.
Find more information at Velika Planina – how to find us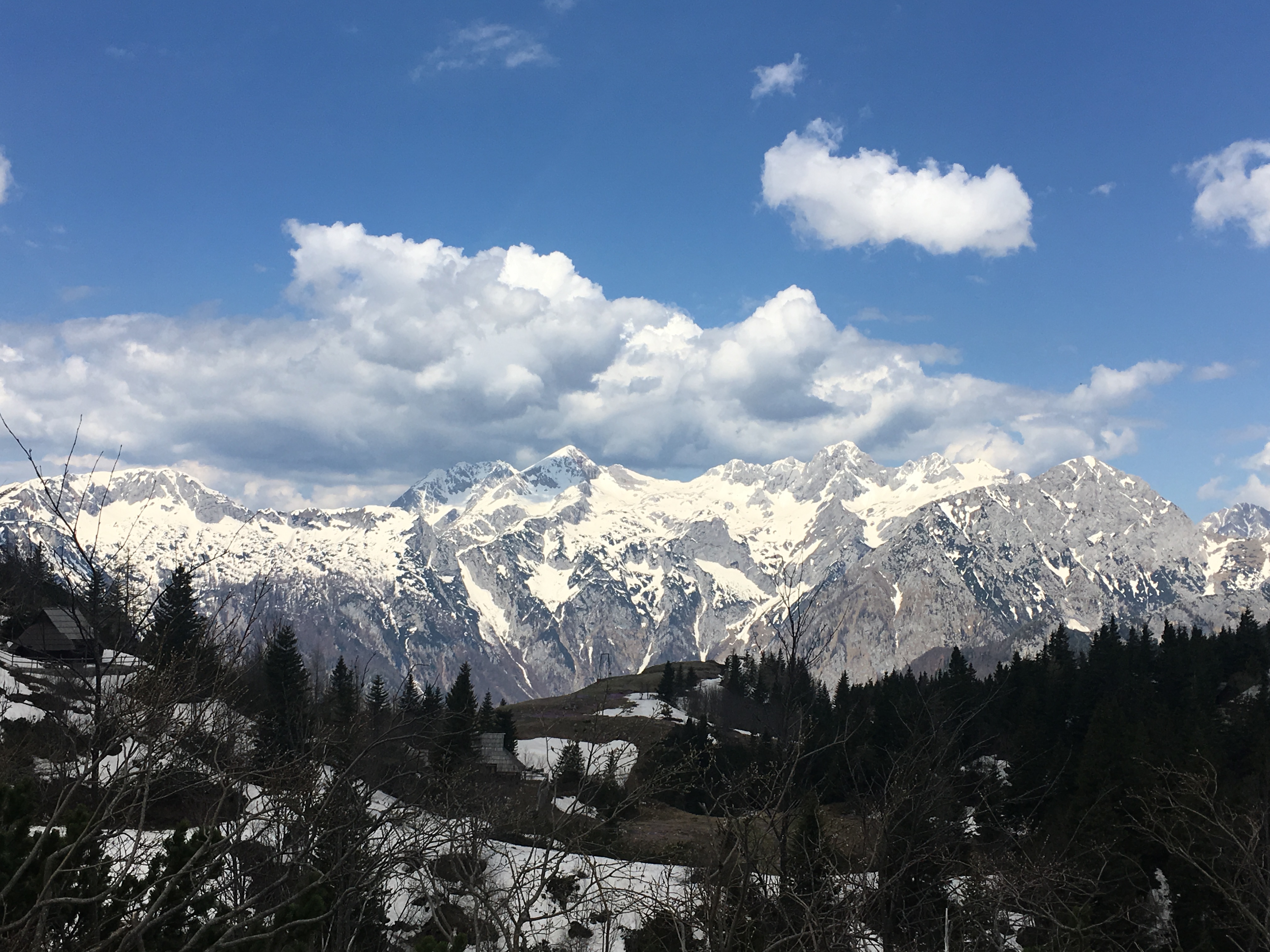 Photo credit: Putopis
Accommodation – Bistra cabin
We stayed on the mountain in a wooden cabin named Bistra. The cabin was very charming and cosy, very well equipped and exceptionally clean. It has everything one needs when staying at the top of the mountain, even a small 'shop' – a couple of shelves with all kinds of different products one can buy.
Photo credit: Putopis
Our host, Rok made us feel very welcomed. The thing that especially impressed me was a hand written welcoming letter and a board with our first names at the entrance. I think these are the details that show that the host cares about his guests. For me these kind of details really make a difference.
Photo credit: Putopis
He took care of our meals including breakfast. Local products waited for us in the cabin (such as homemade cheese and yogurt)  as well as homemade bread. No need to mention that everything was delicious.
Photo credit: Putopis
For lunch we visited a restaurant near our cabin. Regarding dinner, we had 2 options – to have dinner at the restaurant or to prepare something in the cabin kitchen. We opted for the second one. Accommodation is pet friendly and has a WiFi. 
Two things will stay in my memory: having a morning coffee on the terrace with a beautiful view. One could sit there for hours just relaxing and soaking up the sun. The other is having a great evening in the cabin, chatting with friends by the fireplace and looking after the fire.
Photo credit: Putopis
For more information regarding the cabin and accommodation visit Rok's web page http://koca.si/ or follow his accounts on Facebook Koca Velika Planina or Instagram kocavelikaplanina .
The fields of saffrons
We visited Velika Planina in the spring time, in the time of saffron blossom. Purple flowers were everywhere, literally everywhere and they created the most magical purple carpet. The mountain tops covered with snow in the background were the perfect setting for taking photos. Nature  there is really exceptional, that's all I can say….
https://www.instagram.com/p/Bh3bjVyH8-a/?taken-by=putopis
Photo credit: Putopis
Photo credit: Domagoj Sever
Photo credit: Putopis
Besides walking, relaxing and just enjoying nature, there are plenty of other activities like hiking, mountain cycling, guided tours and traditional events, skiing, sledding…. It all depends on the season and your interests. Find out all at Velika Planina . My visit to this beautiful place exceeded my expectations, I hope to visit it again and I would definitely recommend it to all nature lovers and everyone who needs to get away from a busy city life.
Photo credit: Domagoj Sever
Jasminka Đaković
This trip was part of the blog trip organised by Pravljica na Veliki Planini . All stated opinions are my own and are not influenced in any way.