To see the dolphins swimming freely in the sea has been my wish for a long time. Maybe this seems like some plain and very simple request, but for me it was rewarding in so many ways. I booked a tour with Dolphin Watching Murter crew, very friendly and professional young people from the island of Murter, Croatia. Our starting point was the town of Murter. We met in the city center on the peer where their boat waited for my colleagues and me. Our tour lasted for about 3 hours and besides dolphin watching it included a stop for a swim.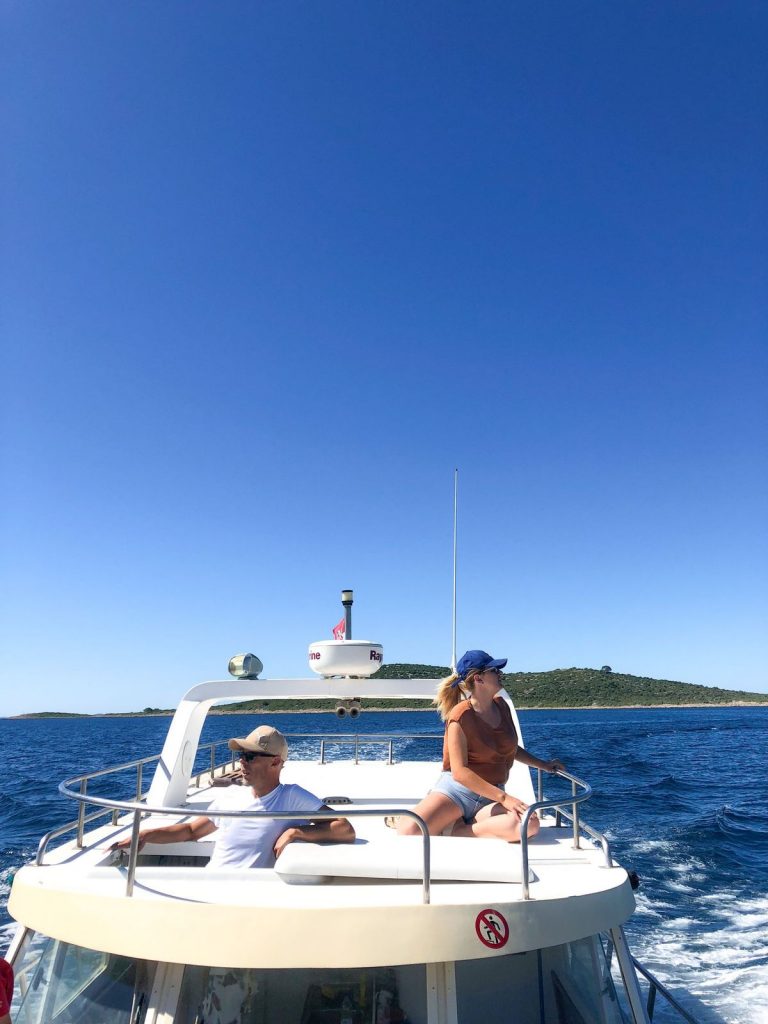 Our great hosts Josipa and Mihovil from Dolphin Watching Murter
The tour started at 9 am and we slowly cruised around the Murter archipelago looking for dolphins. It seemed like a busy morning at sea with lots of different boats sailing around. Some of them going fishing or looking for a nice bay for a swim. There are definitely some fantastic places because this archipelago consist of approximately 200 islands, islets and cliffs.
The most common kind of dolphin in the Adriatic Sea is the Bottlenose dolphin. It's also probably the best known. They are 2 – 4 metres long and their colour ranges from dark blue to brown grey on their back. You'll recognize them when you see their smiling face :-) These incredible, intelligent and sociable creatures help each other in life. For example in finding food, during the birth and in sickness. They communicate with each other in various sounds and it is certain that they recognize each other and 'talk'. They live in groups and friendship and loyalty is very important to them. Another species of dolphins that can be seen in the Adriatic Sea is the Striped dolphin (the lower part of its body is blue, white or pink and it has one or two black stripes around the eyes which extend to its back) and, the less frequently seen, the Short-Beaked Common dolphin.
So we sailed. The time was passing, we were 'all eyes', focused on the blue sea, looking to see some promising signs of dolphins, but there were none. Just wast blue sea, waves, lots of waves, seagulls, wind and the sun. But no trace of the dolphins. After some time I realized, although I had a positive attitude all the time and strong wish, there is a possibility I wouldn't see them at all. My excitement from the beginning of our tour started to fade and I just thought: 'OK, there's nothing I can do, I'll see them next time and I'll just enjoy the moment.'
You learn that it's all about patience, time and experience. You can't rush nature or expect to see these amazing creatures when you want to. You have to give it time and you have to have the right people who will take you to the right places and spot potential locations. And maybe you won't see them at all. Josipa from Dolphin Watching Murter told me they see dolphins in 90 % of their tours, but there is no guarantee. At that point I thought – 'I'll probably be in that 10 %.' But, all of a sudden, like in so many other life situations when you don't expect anything to happen – you get rewarded. Our captain Mihovil saw some 'strange' gathering of a number of small boats at the open sea. He told me – 'they must have spotted the dolphins, let's go there.' And he was right.
They were there. Dolphins were there in all their beauty. A small group of them jumping and swimming in front of us. I was overwhelmed and soooo happy like I'd just won the lottery. It was just a majestic feeling and my heart was full.
Due to the fact that it all took place so fast, I managed to take just a couple of photos of dolphins, but I'll remember this tour forever. After this sight our 'mission' was completed and we all agreed to go for a quick swim. We stopped by the small island of Murvenjak – the bay was just perfect. Maybe this photo from our swim break describes my experience of the whole tour the best – freedom, happiness and pure relaxation.
Nature always inspired me and filled me with positive energy. Maybe now, during these strange times, more than ever. This was a beautiful experience and Dolphin Watching is definitely something I would recommend to all nature lovers. Mihovil and Josipa have these tours twice a day (starting at 9 am and 5 pm from the center of Murter), but you should contact them before booking because the tours depend on the weather conditions and the number of guests. The ticket for an adult is 225 kunas. You can find all the details here – Dolphin Watching Murter.
I'll end this story with a video we made that day. The first part of the video is from this dolphin watching tour. I hope you'll like it, let me know :-)
Jasminka Đaković