The idea of getting to know the city, its history, tradition, everyday life and people through food is wonderful. I visited Krakow at the end of February, and in my opinion that is a great time for a food tour since it was still winter and the weather was a bit cold. Nevertheless, the cold weather didn't stop us from exploring the city during our 5 days stay.
About Krakow
This is not my first visit to Poland. My colleagues and I already visited Warsaw and Gdansk and discovered great, interesting and modern cities. Each city has its own story, and if you want to know more about them check out my articles: Warsaw and Gdansk. Among other things, I will remember Krakow as a great gastro destination. But before I start writing about all those incredible food experiences here's some information so you'll get the feel of the city. Krakow is one of the oldest cities in Poland, situated on the Vistula river in the south of the country. It used to be the capital city, the center of economy and culture, and it had this function 3 times in its history. Nowadays it is a vibrant, modern city. While we strolled the city streets with our guide Szymon Gatlik we learned many interesting things about this town. The main Krakow market square, Rynek Glowny, is the largest medieval commercial square in Europe and the University of Krakow from 14th century is the oldest university in Poland. Its Old Town was proclaimed the first UNESCO World Heritage Site in the world. St Mary's Basilica is the symbol of the city. Every hour you can hear St Mary's Trumpet Call playing from the basilica's tower. At one point the melody stops. This short stop represents a legend of a trumpeter who, in 1240, wanted to warn the locals that an enemy is approaching, but was killed by an arrow. This is the reason why the performance ends abruptly. Today at the end of each performance, the trumpeter will wave at you and you are expected to wave back. We were glad to do so.
The view of the St. Mary's Basilica on the main square. Photo credit: Putopis
The Cloth Hall, a building at the center of the main square. It's often claimed to be the world's oldest shopping mall. You can buy souvenirs there today. Photo credit: Putopis
The passage of the Cloth Hall. Photo credit: Putopis
Detail from the streets of Krakow. Photo credit: Putopis
I would also recommend visiting the Wawel Castle, dating from the 14th century, at the Wawel Hill. It was built by king Casimir III the Great. It consists of many buildings from different periods of time situated around the main courtyard, including the Wawel Cathedral where almost every Polish king and queen in history were crowned. It's the first UNESCO World Heritage Site in the world. It was the residence of Polish kings for 5 centuries and one of the most beautiful renaissance castles. There are many legends about the castle but the most famous is one about Smok Wawelski dragon with 7 heads who lived in a cave under the Wawel. The castle is museum today, the complex is free to enter but check all the details for visiting castle, museum and exhibitions here.
Photo credit: Putopis
Photo credit: Putopis
Krakow was always considered to be the country's culture capital but it was also awarded the title of European capital of the gastronomic Culture in 2019.
The place that feels like home
A glass of wine is something that has the power to make time stand still …
What a wonderful quote from the winery and restaurant Klimaty Poludnia, our first gastro stop in Krakow. And it's true. There, in cozy ambience with divine food paired with appropriate wine and live music in the background, sitting by the fireplace with friends you feel like time stands still. We had to try our favorite Polish dish – traditional pierogi, and we were amazed by the duck fillet with baked apple in rose sauce. Special attention is given to pairing the right wine with the right food. You'll find great selection of awarded wines from Italy, Spain, Portugal but also some fine wines from Poland. We were recommended to try a glass of Riesling with traditional Polish pastry – chrusty , Muscat with ice cream and cheese cake with red wine and we loved it.
Traditional Polish pierogi. Photo credit: Putopis
Best duck fillet I have ever tried. Photo credit: Putopis
The right wine makes a difference. Photo credit: Domagoj Sever
Food festival and workshops
Situated in an old tram warehouse, Zapusty food festival or Krakowskie Zapusty is held at the end of the carnival season in February. There you can taste locally produced food, watch chefs make delicious meals or learn how to make it yourselves in their cooking show. That's what we did, we learned how to make traditional Polish pastry – chrusty, the one that we tried the night before and that is eaten during the carnival season. It's a crispy and light fried pastry. It's really simple, made with flour, egg yolks, sour cream, sugar, butter, a little bit of rum and a pinch of salt. You'll need about 15 – 2o minutes for the preparation, then you deep fry them for a couple of minutes and that's it.

Krakowskie Zapusty festival. Photo credit: Putopis
Like true master chefs. Photo credit: Putopis
Sprinkled with confectioners' sugar they were delicious. Photo credit: Domagoj Sever
Another workshop that we attended was one by the Muzeum Obwarzanka where we learned how to make 'obwarzanek', the favorite snack of the people of Krakow as well as their guests. This delicious pretzels were first mentioned in 1394, and could only be made inside the walls of Krakow by a selected group of bakers. I love attending food workshops while travelling, it's always a great experience – you learn a bit about their tradition, participate in food making, meet new people and have fun. I would definitely recommend food workshops while traveling. You can find all the details about this one here.
Rolling dough for perfect shape. Photo credit: Domagoj Sever
It's like knitting braids. Photo credit: Domagoj Sever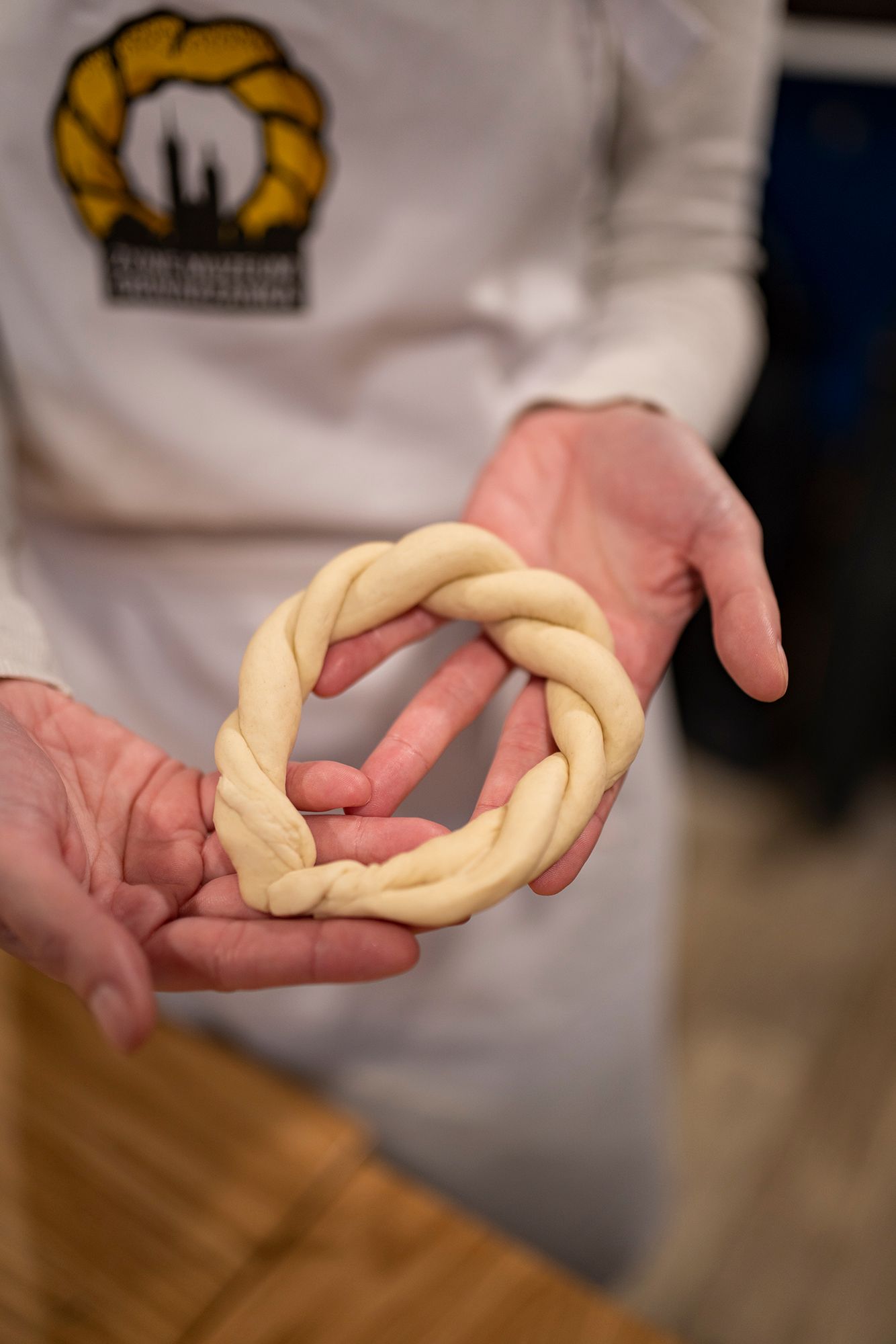 Volia :-) Photo credit: Domagoj Sever
For topping you can use poppy seeds, sesame seeds or salt. Photo credit: Domagoj Sever
In 2010, 'obwarzanek' was recognized by the European Commission as a part of culinary heritage of Krakow. The certificate determines the shape, weight and the production process and it can only be given to the bakers from the city of Krakow or Krakow and Wieliczka counties.
Until 1950 obwarzanek was sold from baskets like this one. Photo credit: Putopis
Yay :-) We got our certificate in the end. Photo credit: our guide Szymon Gatlik.
The old tram warehouse Stara Zajezdnia Krakow by DeSilva also hosts the Krakow's biggest beer hall and a mini brewery. We had to taste some of their finest beer and had a really hard time deciding which one we liked the most.
So many choices. Photo credit: Putopis
Fine dining with a story
Dining at Wierzynek Restaurant in the city center at the main square was a memorable experience. In addition to amazing food, this restaurant has a very interesting story. In 1364, a wealthy merchant Mikolaj Wierzynek was asked to host a feast for the monarch of Europe on behalf of the Polish King Casimir the Great. He performed the task magnificently. According to the legend the feast lasted for 20 days and nights. I can just imagine what a party that was! Upon departure, the merchant gave each guest a splendid gift: gold and silver tableware. Today, the restaurant continues this medieval tradition and gives a royal welcome to each guest. Although we didn't receive a gift in form of gold and silver, we were 'awarded' by tasting the most delicious food and had impeccable service so we did feel magnificent, like kings and queens :-)
Check out this outstanding food rhapsody.
Duck fillet, fig puree, rhubarb, traditional Polish spit cake. Photo credit: Domagoj Sever
Saddle of venison, Jerusalem artichoke, broad bean, chanterelle mushroom, parsley, blackberry. Photo credit: Domagoj Sever
Honey – caramelized porcini mushroom ice cream. Photo credit: Domagoj Sever
Street food temple
A completely different experience form fine dining but equally delicious was the one we had at Andrus Maczanka po Krakowsku or Andrus Food Truck. What a treat that was! They took a traditional Polish pork dish, called 'maczanka Krakowska' and prepared their street food version of it. The meat is first put in a marinade for 48 hours and is later served in a warm bun . There are several versions of 'maczanka', the most unusual one being the one with beetroot mousse and dark chocolate.
Juicy and delicious 'maczanka'. Photo credit: Putopis
You definitely can't miss Andrus on the streets of Krakow. Photo credit: Putopis
Cool museum not to be missed
Something different, fresh, unexpected, something that makes you think and gives you new perspective – that's modern, recent art to me. You'll see and experience all that in Mocak Museum of Contemporary Art in Krakow. It was established in 2010 and presents art related to 20th century avant-gard tradition from modernism to expressionism, theater, performance and abstraction. It concentrates mainly on the works by artists from Poland, Central Europe and the former Eastern Block as well as the ones by non European artists. If you like to see something offbeat and if you like 'Instagramable' place this is definitely it.
'In-Between' instalation by Stanislaw Drozdz. Photo credit: Domagoj Sever
'Do Unpleasant People Share Similar Features?' by Guido Casaretto . Photo credit: Putopis
Up close – 'Do Unpleasant People Share Similar Features?' by Guido Casaretto . Photo credit: Putopis
You'll find all the info about working hours, ticket price and how to get to the Museum here. Take your time, stroll trough the museum and enjoy.
'The odd Place' by Elzbieta Janicka. Photo credit: Domagoj Sever
Kazimierz
South of the Old Town, you'll find the city's Jewish quarter – Kazimierz. A part of the town with artistic charm, rich history and the oldest European synagogue. The quarter is full of museums, cafes and basement beer houses. Did you know that the most famous Steven Spielberg's film Schindler's list was filmed there?
UFO in Krakow. Photo credit: Putopis
Streets of Kazimiers. Photo credit: Putopis
Clark Gable and his famous sentence. Photo credit: Putopis
Something sweet for the end
Cukiernia Cichowscy is an authentic Polish pastry shop where you can feel the real local charm. It's the place to taste traditional Polish kremowka or donuts and have a cup of coffee. We stopped by on our way to the city center and had our daily dose of sugar and coffee :)
Donuts are eaten on Fat Thursday. It's believed that they will bring people good luck for the rest of the year. Photo credit: Putopis
Which one to choose? Photo credit: Putopis
As I've mentioned, this was our third visit to Poland. After Warsaw and Gdansk, Krakow proved to be equally beautiful and interesting as the previous two. If you happen to be in Croatia and are interested in visiting those amazing cities in the future, visit Domagoj Sever's exhibition #ilovePolska at Zrinjevac Park in Zagreb and learn about what you can see there. The exhibition starts on 1 December and is a part of this year's Christmas market. We hope you'll enjoy it as much as we did Poland.
Learning about traditional Polish cuisine and food tasting was the goal of my trip, but inevitably, with such an experience, you get so much more. Thank you Krakow, I'll be back :-)
Jasminka Đaković
Contributor: Željka Đaković
Special thanks to the Polish Embassy in Croatia, Krakow tourist office and our guide Szymon Gatlik.
All stated opinions are my own and are not influenced in any way.