I visited Cyprus, the 3rd largest island in the Mediterranean and the birth place of Goddess of Love and Beauty Aphrodite, in October. It's always a special feeling for me to visit a place where ancient history took place, where Gods and Goddesses lived, loved, fought, pledged alliances … These sights are 'live' witnesses of some past times, you read in the books about and they seem so unreal to you, but yet so fantastic.
When you're there on the sight and the guide is telling you a story about it, history becomes alive in front of you
Neophythos Efstathiou, the owner of Pefkos Hotel in Limasol, shared this thoughts with us and I couldn't agree more. I would add that I was simply enchanted by the islands stories and history and I admit, Cyprus won my heart. It wasn't just the history, it was the whole experience of the island – magnificent nature, warm hearted people, delicious cuisine, I love every minute I spent there exploring it.
Location: Petra tou Romiou; photo credit: Putopis
About Cyprus
Situated on the crossroads of 3 continents (and of course also influenced by them) – Europe, Africa and Asia – Republic of Cyprus has a unique charm. It's a part of the European Union, Nicosia is the capital city and Euro has been their official currency since 2008. Since we had a couple of questions from our Instagram followers regarding documents here is the info: citizens of the European Union can enter the country with their national ID card (with the photo on it), for more details please check the following link: Visit Cyprus entry requirements.
Personally, when I travel I always bring both – my passport and my ID card. Just in case, you never know what might happen. You may, by accident, lose one of the documents, so you always have the other one.
Location: Larnaca, St' Lazarus church; photo credit: Putopis
Cyprus has a very agreeable Mediterranean climate, with long, warm and dry summers from mid May to mid October, and mild winters. Due to that, many foreigners buy properties on the island, for living or just as holiday villas. In fact, by law if a person invests 2 million euros in the country they can obtain a Cyprus passport. My visit was at the beginning of the October. I think that was the perfect time to visit this beautiful island, because the weather conditions are great – summer is still on, with daily average temperature of 28 C degrees, the sea is warm and, at night, the light sea breeze creates a very pleasant feeling.
Location: Nissi beach; photo credit: Putopis
There is no direct flight from Zagreb, Croatia to Larnaca, so I had to make a stop in Vienna and then continue my journey to Larnaca, Cyprus. The journey lasted approximately 4 hours (including a stop in Vienna). During our 6 days stay in Cyprus my colleague and I visited numerous towns, villages and historic locations such as: Larnaca, Potamos Liopetriou fishing village, Nature park Cape Gkreko, Nissi beach resort, Nicosia (Lefkosia), Fikardou village in the mountains, Lefkara village, Lemesos, Pafos, Petra tou Romiou, Tombs of the kings, Latchi fishing shelter, Blue Lagoon, Platres area with the Kaledonia nature trail and waterfalls, Tselefos bridge, Omodos village, Kourion ancient sight, Appolo sanctuary. Yes, you might think – that's a lot of sights to visit in just 5 days. Our itinerary was very dynamic, full of activities and places to explore. Cyprus really has a lot to offer, and it's with good reason very popular tourist destination on the Mediterranean. But my impression is that Cyprus is a bit "shy" or perhaps it's better to say – it's a Mediterranean hidden gem. Many people still haven't been there and I would definitely recommend Cyprus to them – just go and explore it :-)
https://www.instagram.com/p/BpEVwjIF2LP/
We got to know so many towns and villages, beaches, culture, their everyday life and talked to local people, listened to the stories about their majestic ancient history – so it is really hard for me to make a short list of recommendations or a little travel guide what to see and what to do. Nevertheless, this is my personal list created on this journey, what I like about Cyprus. It's a collection of my thoughts and experiences and I hope you'll find it useful and interesting :-)
Location: Pafos; photo credit: Putopis
Majestic nature and beautiful beaches
I love spending time in nature and I'm also a sea lover, so when our guide brought us to the magnificent Cape Gkreko I was wowed. Specially 'carved' cliffs surging above the crystal clear blue sea showing off their power and beauty – it was a stunning scene. We were delighted to find a cave that, at one side, looked just like a frame of the picture, framing the blue sea wonderfully. Of course, that was the perfect setting for taking lots of photos by us, tourists, cliff jumpers but also newly weds. In fact Cyprus is a very popular romantic wedding destination. That's no wonder since the island is considered to be the birth place of Aphrodite, the ancient Greek goddess of love, beauty and fertility.
Location: Cape Gkreko; photo credit: Putopis
Petra tou Romiou is a beach you shouldn't miss if visiting Cyprus. According to legend, Aphrodithe was born there from sea foam (you can find more info about the legend at Petra tou Romiou)
https://www.instagram.com/p/Bo6_nSJlqsd/?taken-by=putopis
There is also one interesting myth regarding the beach which says – swimming three times around the rock will bring you various blessings, like eternal youth, beauty and true love. No need to mention that I didn't have the time at all to swim at that beach, much less around that rock, so it's obvious I must come back. Now, you might think the reason is that "3-times swim blessing stuff", but let me reassure you. I would return and swim just for the sake of pure recreation and this blog post. But, if during that swim, all this "eternal stuff" should happen to me (because miracles do happen), well let it be ;-)
Location: Blue Lagoon; photo credit: Putopis
Blue Lagoon needs no special explanation. It's a true paradise and I can just say 3 things about it – warm sea, white sand and pure happiness. We went on a boat trip from Latchi fisherman village. We took a boat excursion that lasted for 3 hours, and it was just enough time to enjoy the beautiful scenery and swim in the incredible Blue Lagoon.
https://www.instagram.com/p/BooZYtdlWzm/?taken-by=putopis
There are many more beautiful sights and beaches on the island and be sure to check them all out at Visit Cyprus beaches.
Location: Nissi beach, photo credit: Putopis
Ancient history
Ancient history always intrigued me. It's an important part of the Cyprus culture and heritage and you can find evidence of it 'on every corner' of the island. Archeological sights and remains, museums, galleries, stories … Can you imagine how interesting it must have been to live on Cyprus, that small island but an important juncture of different continents, worlds, nations and cultures, in those long past ancient times.
One of the remarkable places we visited was the Kourion ancient city-kingdom. It's a part of the UNESCO World Heritage Sights and it was one of the most important city-kingdoms of Cyprus in antiquity times. It was built on the hill top and as we drove to the main entrance, a couple of paragliders flew just few metres from our car. That sight was so stunning we had to stop, take some photos and just enjoy the view – a dozen of paragliders flying over us, beach and the ocean.
Location: Kourion; photo credit: Putopis
Our next stop was the Theatre that was build towards the end of the 2nd century BC and in one period of time was used for gladiatorial games. Nowadays, it's used for open air concerts, performances especially in the summer time. The Theatre has the beautiful view over the beach and the sea and it can seat up to 3000 people.
Location: Kourion; photo credit: Putopis
Baths and House of Eustolios, with its beautiful mosaic floors, are situated just beside the Theatre. It was a glorious complex of baths, public rooms, dressing rooms, meeting halls, courtyards, salons for relaxation, dining and recreation, beautifully decorated with columns and mosaics. Presumably, Eustolios built and donated the complex to the population of Kourioun who suffered a lot due to the many earthquakes. Besides relaxing, there's no doubt people of Kourioun also met there and discussed business. What's fascinating to me, is the fact that all the pipe work and plumbing at that time was covered with tiles and mosaics and was no visible to the public. Well, how advanced was that for the 4th century?
Location: Kourion; photo credit: Putopis
I particularly like the Sanctuary of Apollo Hylates, an ancient monument dedicated to the God of Apollo who was thought to be the protector of Kourion. During those ancient times it was the most important religious centre where Apollo was worshipped as Hylates, the god of woodlands. The shrine was so sacred that the penalty for touching the altar was to be thrown from the nearby cliffs to the sea.
Location: Kourion; photo credit: Domagoj Sever
We also visited the famous Tombs of the Kings, part of the Pafos Archeological park, that is also on the UNESCO World Heritage Sights list. The tombs were actually not built for the Kings (they were not buried there), but for the high aristocracy. Their grand and brilliant architecture, with Doric pillars, named them Tombs of the Kings.
Location: Tombs of the Kings; photo credit: Domagoj Sever
Location: Tombs of the Kings ; photo credit: Putopis
Colorful Nicosia (Lefkosia)
Nicosia (or Lefkosia) is the capital and the largest city on the island of Cyprus. We visited it for one day and my first impression was – what a colorful city, colours were popping from everywhere. From the architecture, shops and local libraries, doors, flowers, sunshades installed over the city's streets to the wonderful details like chairs in the local coffee shops. We strolled along the enchanting narrow streets, visited the old town surrounded by Venetian Walls and Famagusta gate, Chrysalliniotissa church and area and continued our tour to the Fanomeroni area. Along the way we stumbled upon many local shops selling souvenirs, embroideries, crafts and one restaurant where a lady played accordion to the guests on the terrace . You could feel the happy, positive energy just because of that detail. Smiles on the guests' faces and people who stopped to listen to those notes proved, once again, how music brings people together.
We stopped for a Cyprus coffee at the place called 'Pieto' in Stoa Klokkaris street and sat on the terrace, actually a passage which was decorated like someone's backyard. It felt very cosy and friendly and I liked it a lot.
I also liked the coffee, black and strong – they put sugar in advance for you, so we always drank 'metrios coffee' which means with medium sugar. Of course you can have your coffee glykos (sweet) or sketos (with no sugar).
Another must-see place is Phytonos street with great street art mural -'The People of Cyprus'. Cypriot artist Paparazi (Achilleas Michaelides) painted the local people from different backgrounds, who lived and worked in the area. His art definitely revived, otherwise, just 'another' street. I loved it. Check out the gallery and pick your favourite colour and spot in Nicosia :-)
Location: Phytonos street; photo credit: Putopis
https://www.instagram.com/p/BomRhaCFo7I/?taken-by=putopis
Location: Nicosia; photo credit: Putopis
Location: Nicosia; photo credit: Putopis

Location: Nicosia – this mural represents the map of the city history; photo credit: Putopis
Cyprus food – my kind of food
'Did you eat enough?' That's the question I get very often from my family, so I was frequently asked about my eating habits while on Cyprus. I must admit, their concern is totally legit, knowing my dynamic lifestyle and the fact that I'm the person who eats little. So to answer everyone – I ate a lot and I ate very good. Cyprus cuisine was just according to my taste. The tradition is to put lots of different meals on the table and share food and combine it. All kinds of vegetables, meat dishes – like pork kebab, grilled Halloumi cheese, spices, dips, Greek salads, humus, fish specialties, Louvi – that mostly consists of healthy beans etc. All at your choice to mix it on your plate and then to blend all the flavours and aromas – it was simply a wonderful gastro experience for me. I really enjoyed their Mediterranean cuisine, a bit light and with the Greek and Middle Eastern influences. I hope these photos will inspire you to try some of their delicious cooking. There are many great taverns and restaurants in Cyprus. Here are just some of them that we visited during our stay – 'Vasos Fish Tavern' in Agia Napa Harbour, 'Stou Roushia' in Larnaka, 'To Katoi' at Omodos village, 'To Kypriakon' restaurant in Lemesos ….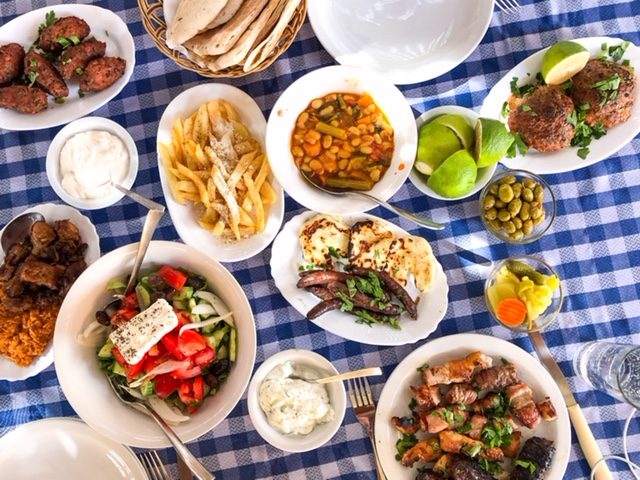 Photo credit: Putopis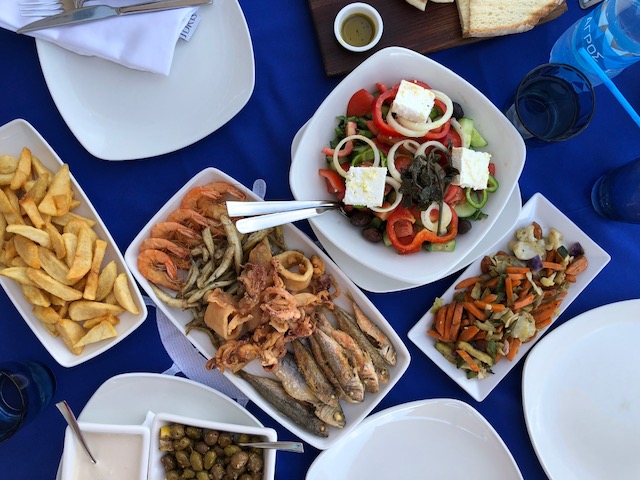 Photo credit: Putopis
Photo credit: Putopis
For more information about Cyprus food and flavours visit local Cypriot food.
Lefkara – a place with 'the' charm and famous Cyprus lace
How much patience you must have to make just one small piece of lace. Well I don't know, but I would say a lot. I think one would need plenty of patience, time and love. You can find all of that in Lefkara, a small village where unique lace and embroideries are being produced by hand. Different kinds of tablecloths, napkins and other lace pieces are traditionally designed. They are listed on the UNESCO Intangible World Heritage List. It's even said that the famous painter Leonardo Da Vinci bought Lefkara lace and brought it to the Milan Cathedral for the altar.
https://www.instagram.com/p/BorFD5zlIl6/?taken-by=putopis
To produce the 'standard dimensions' tablecloth it takes about 2 months of work and it costs approximately 340 Euros. The village women passed the tradition of lace making to their daughters. You can still see some old ladies siting in front of their houses and patiently sewing and making lace. Unfortunately there are fewer and fewer young women interested in lace making nowadays.
Location: Lefkara; photo credit: Putopis
After having Cyprius coffee at Rouvis Lace & Silver shop with Demos Rouvis, a very friendly owner of the family business, we explored Lefkara village some more. Charming narrow streets, blue doors (my personal favourite) and local women making lace, just doing their everyday thing was enough to remind you how small villages are sometimes true gems.
https://www.instagram.com/p/BpT8w3RlXIZ/
Location: Lefkara, photo credit: Putopis
Location: Lefkara, photo credit: Putopis
Location: Lefkara, photo credit: Putopis
Location: Lefkara, photo credit: Domagoj Sever
These are just some of my impressions while visiting this wonderful island. Cyprus was beyond my expectations. I enjoyed every minute of it. I really think it's a hidden gem. The combination of nice and hospitable people, great nature and history, amazing food, vibrant cities and villages are the reasons I feel that way. I would definitely recommend visiting Cyprus and I think autumn season is the perfect time to do so.
Don't wait, go for that eternal love, beauty and memories that Cyprus will give you. This magnificent island and its people are waiting for you with open arms.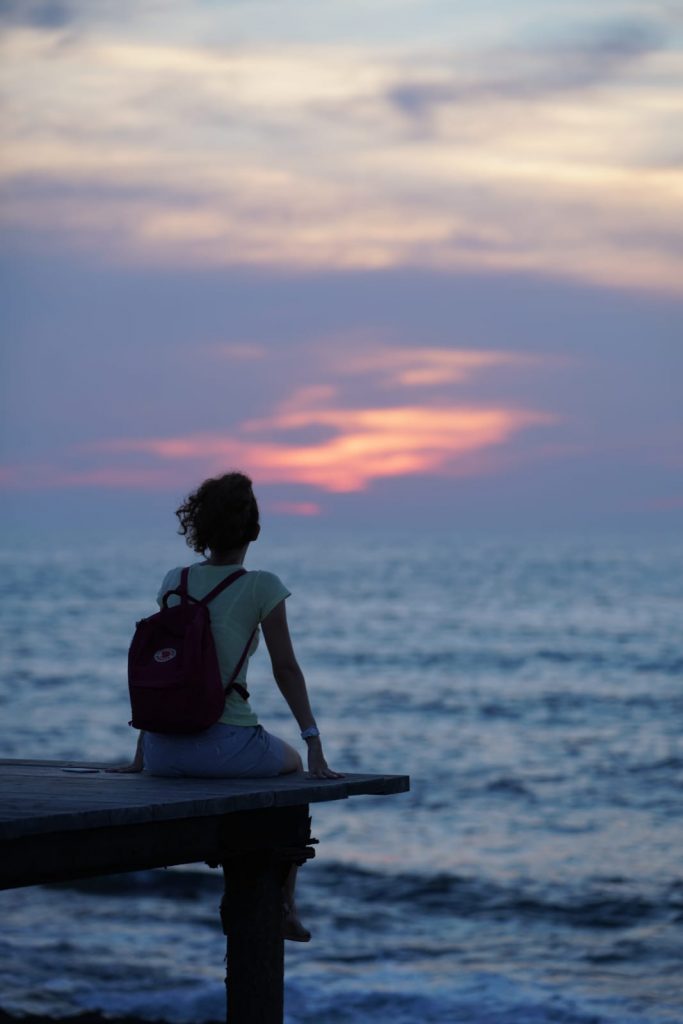 Location: Pafos, photo credit: Domagoj Sever
Jasminka Đaković
This trip was done in cooperation with the Cyprus Tourism Organisation.
All stated opinions are my own and are not influenced in any way.